One might think that digital transformation takes place primarily in the area of ​​tension of IT compliance. However, numerous case studies of digital transformation show that this assumption does not go far enough. In the course of the digitization of previously analog business processes and workflows, requirements that were previously assigned to corporate compliance are also becoming important. With the digital transformation, the implementation of corporate compliance requirements and business processes are moving more and more into the digital world. IT must map and implement business processes and compliance requirements. This also applies to business processes that previously had no or only a minimal share of IT.
IT compliance and corporate compliance – the line becomes blurry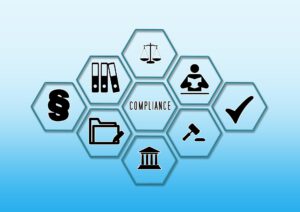 A bank that wants to set up a new process to combat money laundering should serve as an example of this implementation of corporate compliance requirements via IT. According to the Money Laundering Act, banks are obliged to combat the misuse of their financial services for money laundering. In doing so, banks implement a comprehensive package of measures that include, for example, identity checks of individual and corporate customers, recording and evaluation of money laundering risks and a review of customer behavior with regard to suspicious behavior patterns.
Even if workflows and workflow components of the processes in banks are already supported by IT systems today, considerable resources are required to monitor the countless transactions. Based on big data analysis techniques, banks monitor transactions and risks in real time. This increases their transparency vis-à-vis law enforcement and supervisory authorities. At the same time, resources are saved as fewer employees are required to monitor transactions. If the bank relies on a cloud solution, the computing resources available for the analyzes can also be scaled to a high degree and thus a high degree of flexibility with regard to possible increasing demands on the IT infrastructure.
Regulatory Compliance is a question of management
In view of far-reaching technological and organizational changes, compliance with regulatory requirements seems to be primarily a question of management and process design. Since compliance requirements are automatically integrated into the user interfaces in the form of rules, the user is already in a compliance framework in which the implementation of a large part of the rules has already been incorporated. We will explain the subtleties of the boundaries between IT compliance and corporate compliance in our next YouTube video. Follow us on LinkedIn to stay up-to-date!